Weddings & Private Functions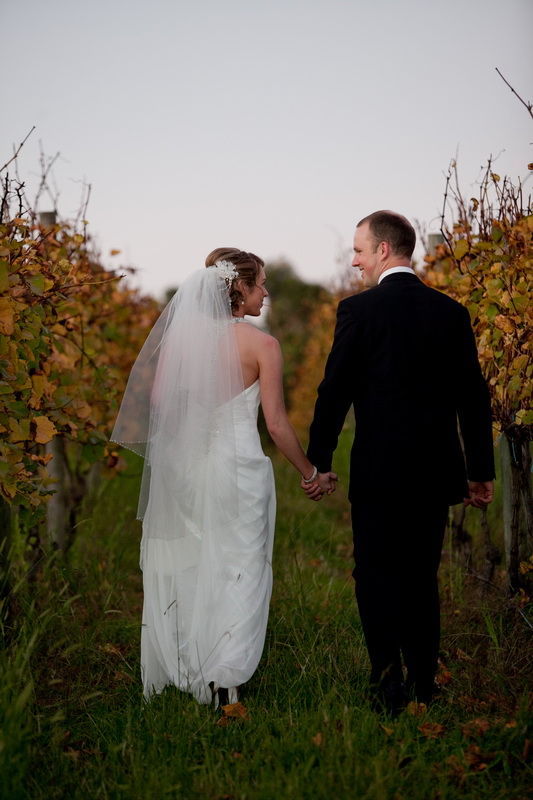 The Hickinbotham Wedding Package
Casual and relaxed, and with a personable ambience are some of the first impressions of visitors through the doors at Hickinbotham of Dromana's winery & cellar door.
In winter the blazing open log fire welcomes all, and in the warmer weather, the sun streams in the windows filtered through the gums that surround the building. No matter what the season, the restfulness of the countryside seeps through.
As a wedding venue, Hickinbotham, unlike many dedicated reception centres can cater to a wide range of requests, allowing the intended couple to feel that it is truly 'their own' wedding.
"We have had some beautiful weddings here on the grounds, with settings ranging from real 'fairy tale' stuff, to simple & elegant", says Terryn Hickinbotham. The best thing about our place, is the relaxed atmosphere, everyone who comes here seems to just kick back and have a good time. What more can you ask at a wedding, except for great food and sensational hand crafted wine & beer, which we also have plenty of, at a realistic cost! I think the enjoyment people have had, is confirmed when the couples return for lunch for their wedding anniversary, which happens often."
The venue can comfortably seat 100 people, but can cater for larger numbers, for a cocktail style affair, with ample space for dancing.
A new brick paved courtyard has increased the available space for guests during the warmer months. The entire area faces west overlooking the vines and affords wonderful views of Port Phillip Bay and the setting sun.
We specialize in the more casual and relaxed wedding reception, for those who wish the day to be a celebration shared with friends and family. We can arrange your wedding to suit your own imagination, and there are a number of options we can offer.
You may opt for a fully sit-down 2 or 3 course affair, or a more casual finger food entree with a sit-down main, with your wedding cake to be served as dessert. Some people prefer the cocktail wedding, which is always an option for the late afternoon.
The menu can be changed to suit all special needs, including vegetarians and gluten-free. Please notify us of any of these special requirements and number of vegetarians, fourteen days prior to the event.
Hand crafted wines and beers are provided on a consumption basis, which we would love you come and taste prior so you can select which you would like served on your special day.
Soft drinks are provided at bar prices.